Why choose our Microsoft 365 Cloud Services…?
In today's business, you need technology to be available around the clock and across multiple devices, to make sure that your business continues to be productive and efficient. Microsoft 365 delivers just that so that you can then deliver fast, reliable service to your customers.
The low-cost solution…
Because Microsoft 365 is a cloud-based solution, you can gain big business benefits for a low monthly cost. What's more, there's no costly set-up fees, expensive upgrades or lengthy set-up times.
Technology on demand…
Installation is simple. You can soon be up and running with everything from email, contacts and calendars to web-conferences and file sharing.
Business Basic
Best for businesses that need business email and other business services on PC, Mac, or mobile. Desktop versions of Office applications not included.
Business Standard
Best for businesses that need Office applications plus cloud file storage and sharing on PC, Mac, or mobile. Business email not included.
Business Premium
Best for businesses that need business email, Office applications, and other business services on PC, Mac, or mobile.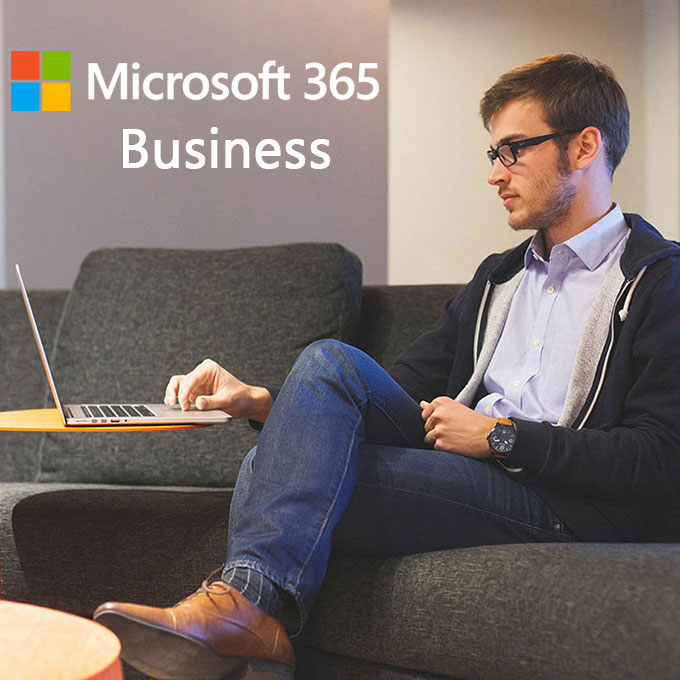 A solution to suit all businesses…
With Microsoft 365 there are a variety of packages available, all designed to suit different business needs.
Safe and secure…
Your data is automatically held safely in the cloud so in the event of a power outage, fire or theft you know your data is safe. Furthermore, you'll have secure access to your documents on virtually any device – including smartphones.
Support…
When you purchase an Microsoft 365 subscription you will also have technical support provided by Microsoft directly at no extra cost. Which means not only will you receive direct assistance and support from experts in your product, you'll also be able to access how-to articles, video tutorials, product forums and more.
Compare Microsoft 365 Cloud Service Packages
Microsoft 365 Features

Microsoft 365 Business Basic

Microsoft 365 Business Standard

Microsoft 365 Business Premium

£5.40 user/month

£11.28 user/month

£19.92 user/month

Web and mobile versions of Office apps

Show more

Use web versions of Outlook, Word, Excel, PowerPoint, and OneNote

Have always up-to-date versions of Outlook, Word, Excel, PowerPoint, OneNote for iOS, Android® devices on up to 5 phones and 5 tablets1

Collaborate using real-time coauthoring so multiple users can work in the same document, simultaneously

Email and calendaring

Show more

Host email with a 50 GB mailbox

Use your own custom domain name
(yourname@yourcompany.com)

Get business-class email on phones, tablets, desktops, and the web with Exchange

Manage your calendar, share available meeting times, schedule meetings, and get reminders

Easily schedule meetings and respond to invitations using shared calendars

Set up new user emails, restore deleted accounts, create custom scripts, and more from anywhere

File storage and sharing

Show more

Store and share files with 1 TB of OneDrive cloud storage

Work on a file and save it directly to OneDrive or SharePoint; your changes are updated across your synced devices

Share files with external contacts by providing access or guest links

Securely share documents and send emails so only those with the right permissions can access the information

Access and sync files on PC or Mac and mobile devices

Teamwork and communication

Show more

Host online meetings and video calls for up to 250 users with Microsoft Teams2

Chat with your team from your desktop or on the go with Microsoft Teams

Bring together all your team's chats, meetings, files, and apps so you can easily connect and collaborate from one place with Microsoft Teams

Create team sites to share information, content, and files throughout your intranet using SharePoint

Security and compliance

Show more

Help protect your email against spam, malware, and known threats with Exchange Online Protection

Meet key international, regional, and industry-specific standards and terms, with more than 1,000 security and privacy controls

Control who and when someone has access to your business information with security groups and custom permissions

Create password policies that require users to reset their passwords after a specified number of days

Support and deployment

Show more

Access support on the phone or the web anytime

Have peace of mind with 99.9% uptime guaranteed

Maximum number of users

300

300

300

Licensed for commercial use

Tools to build and manage your business

Show more

Partial

Plan schedules and daily tasks with Microsoft Teams

Make it easier for your customers to schedule and manage appointments with Microsoft Bookings

Have real-time, accurate mileage tracking and reporting in the palm of your hand with MileIQ4

Desktop versions of Office apps for PC and Mac

Show more

Get fully installed and always up-to-date versions of Outlook, Word, Excel, PowerPoint, OneNote for Windows or Mac (plus Access and Publisher for PC only)

Install the Office apps on up to 5 PCs or Macs per user1

Advanced security

Show more

Help protect against sophisticated threats hidden in email attachments and links, and get cutting-edge defenses against zero-day threats, ransomware, and other advanced malware attempts with Office 365 Advanced Threat Protection

Remotely wipe company data from lost or stolen devices with Selective Wipe from Intune

Restrict copying or saving of company information to unauthorized apps and locations with App protection for Office mobile apps

Control who has access to company information by applying restrictions like Do Not Copy and Do Not Forward with Information Rights Management

Apply policies that provide pre-breach threat resistance in Windows 10 with Windows Defender Exploit Guard

Enforce malware protection to help keep your Windows 10 devices safe from viruses, spyware, and other malicious software with Windows Defender

Enable unlimited cloud archive and long-term preservation policies to ensure you never lose an email with Exchange Online Archiving

Device management

Show more

Configure security features and settings on Windows 10 PCs and mobile devices running iOS or Android® with an easy-to-use setup wizard.

Use simplified controls to manage policies applied to Windows 10 PCs

Automatically deploy the Office apps to Windows 10 PCs

Configure your PCs to automatically install Office and Windows 10 updates

Apply security policies to protect business data on all your devices, including iOS, Android®, and Windows PCs with Mobile Device Management from Intune

Buy Now
Buy Now
Buy Now
If you already have a Microsoft account, and would like to move your subscription to us, please get in touch.
1. Compatible with Windows 8.1 or later. For complete requirements for PC and Mac see system requirements.
2. This plan works with Office 2019, Office 2016, Office 2013, and Office 2011 for Mac. Previous versions of Office, such as Office 2010 and Office 2007 may work with Microsoft 365 with reduced functionality. This compatibility with Office does not include the Office 365 F3 plans.
3. You will be charged the applicable subscription fee. Credit card required. Cancel any time to stop future charges.
4. Availability of Business Apps varies by country/region.

IDT Limited
10 Dec 2023

"
Gives us such an advantage over our competitors
"Having the same dedicated account manager over the years who knows our business and how we work, gives us such an advantage over our competitors. If we do not have the resource, infrastructure or knowledge internally then we know we can lean on CWCS, who do!"
Nottingham City Council
10 Dec 2023

"
"
Nottingham City Council
These improvements will make travelling by public transport in Nottingham even better.
"These improvements will make travelling by public transport in Nottingham even better. By making tickets available more easily online and at kiosks and outlets in and around the city, public transport becomes a more appealing way to travel for even more people."
Red Evolution
10 Dec 2023

"
CWCS Managed Hosting takes ownership of issues.
"CWCS Managed Hosting takes ownership of issues. Their service is reliable but as with all technology, especially web servers, it's not always straightforward. When things go awry CWCS figure it out and get it sorted quickly and efficiently"
Read All Our Reviews