New Plesk version: Plesk Obsidian
Plesk have released their newest version, Plesk Obsidian.
Plesk Obsidian comes with a completely redesigned UI and enhanced UX enabling customers to resolve challenges quickly and intuitively. It's now streamlined and organized in a way to let you complete your tasks with as little clicks as possible. The goal is to let you navigate in the most effective possible way in order to reduce overall administration time.
Plesk Advisor guides you through the initial set-up process to get started quickly and effortlessly and consolidates best practices for security and performance for both server and websites.
Plesk Obsidian is no longer a single server-based control panel but evolved to a powerful server, website and WordPress management platform enabling businesses of any kind to drive digital transformation successfully. Plesk Obsidian makes it as easy as pie to get started with digital projects effortlessly providing a modern web stack out-of-the-box, integrated security and a simplified website and server management experience, which makes the digital experience a human experience.
Here are just a few of the reasons to upgrade to Plesk Obsidian: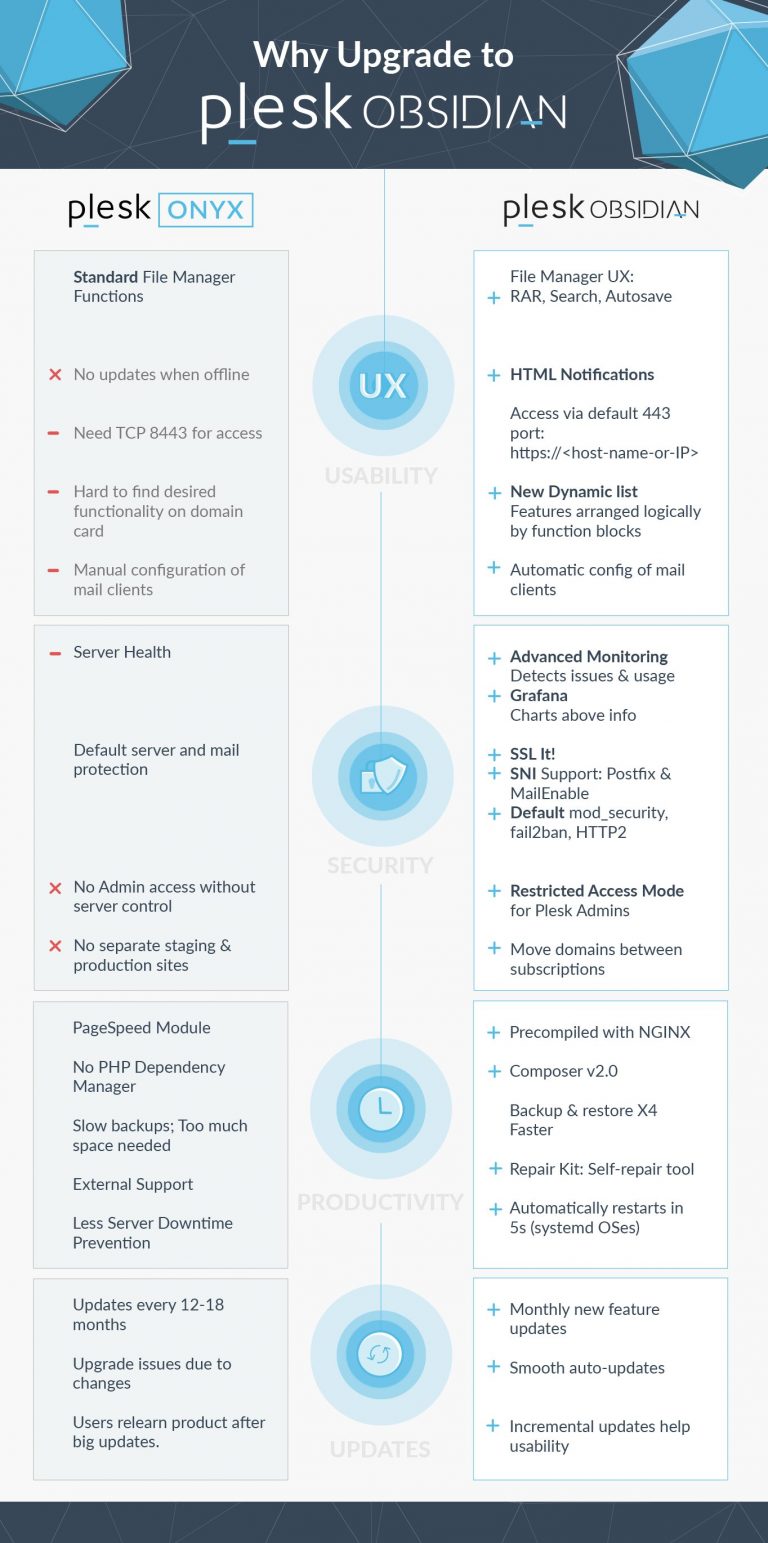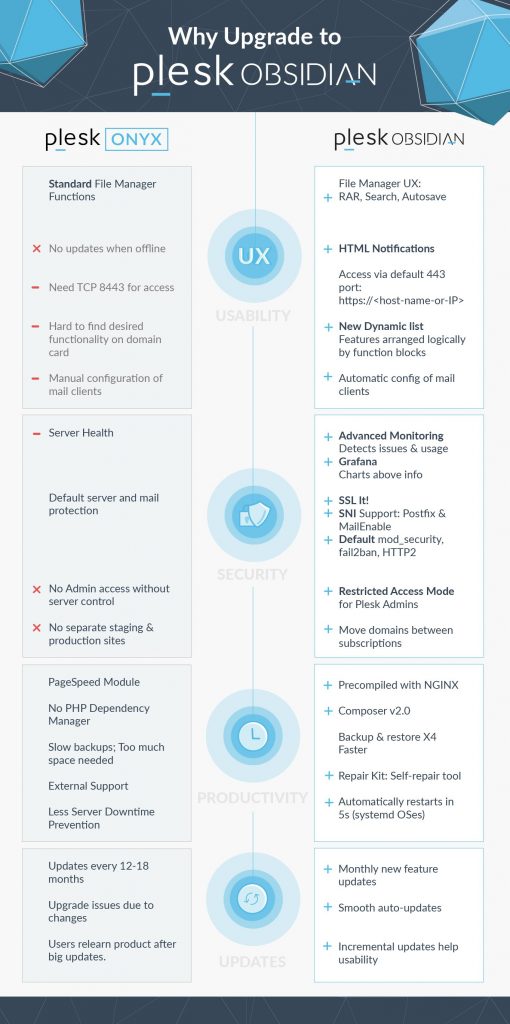 Plesk provides a ready-to-code environment in an intuitive interface for web professionals and helps both developers and designers alike to focus on their business: developing secure web applications and websites for SMBs that scale in the cloud without the need to worry about administration
WordPress Toolkit

Forget logging into each individual WordPress installation to add, remove, or update plug-ins and themes.

Plesk WordPress Toolkit lets you apply changes to all installations with a single click or manage WordPress installations individually.

Get automatic updates to all your installations from one central point.

Avoid orphaned or abandoned installations which are vulnerable to attacks.

Migrate existing WordPress sites to your server with confidence. Know the version and security status of every WordPress site on your server.

Plesk scans your entire server and detects all WordPress installations.

Plesk saves you time by allowing you to add, remove, and update plugins and themes for all of your WordPress installations without the need to log into each account individually.

Manage WordPress installations individually or apply changes to all installations with a single click.

WordPress one-click hardening

Optimise WordPress security. Harden all of your WordPress installations using the security scanner interface. No individual account login or manual work is needed.

Simply check the items you wish to harden, click "Secure", and you're done.

WordPress security scanning

You don't need to be a security expert to manage your web server and protect your WordPress site(s) from attack. Scan all of your WordPress sites with Plesk. Identify which core installations are at risk and how to secure them. Trust Plesk to ensure every WordPress site on your server is secure.

Rock solid server-to-site security

9 of 10 web application developers only realize the need of securing an application when it's too late. Plesk secures your application and website automatically.

Failing to address server security needs for your applications and websites could have devastating consequences. Let Plesk do the work for you.
To speak to an advisor today about upgrading your server to Plesk Obsidian, give us a call on 0800 1 777 000 or email us here.