Fully managed hosting solutions, and the supplemental hosting services provided by CWCS allow businesses to utilise purpose built data centre facilities, saving them the capital expenditure on infrastructure, operating expenditure and maintenance.
This enables Internal IT teams and developers to put greater emphasis on their core business operations, without the added burdens of maintaining internal IT environments, hardware, and the expense of additional support staff.
Peace of Mind with Expertise and Security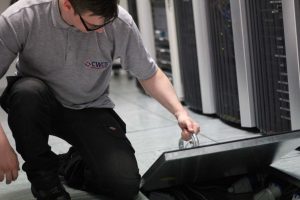 Our highly developed network gives us the confidence to offer 100% uptime guarantees, giving our clients peace of mind, safe in the knowledge their IT environments, and infrastructure are maintained and supported 24/7/365 by skilled technical specialists.
With over 18 years' managed hosting experience, and continuous investment in our high speed network, our managed hosting solutions can be deployed quickly, and with total confidence.
Being both ISO 27001 accredited, and PCI-DSS compliant, CWCS are able to offer additional quality and security reassurances, which have become essential in the battle against malware, data breaches, and cyber security.
Mission Critical Hosting Solutions
Our managed hosting solutions are able to utilise privately owned, and purpose designed data centres with mission critical power and cooling infrastructure, for:
• 100% Network Uptime Guarantee
• No Single Point of Failure
• Full Redundancy
• High Availability
• Load Balancing
• Advanced Security
We have the technical expertise, and resources to architect the most complex hosting solutions that are customised to your business's unique set of mission critical requirements. Also, we offer rapid scalability as your business, and demand for resources grow.
Economic Sense
Employing an IT company to architect your strategy, provide the hardware, and support the infrastructure 24/7/365 can be very costly exercise. By partnering with CWCS you'll receive the entire solution at fixed monthly costs, without the need to employ additional staff in the process, saving huge amounts of time, effort and money.
CWCS becomes an extension of your internal IT team, giving them access to technical experts at any time throughout the year to advise on the latest IT solutions, and cyber security defence techniques.
SLA Backed
Our commitment to success, and quality of our services are backed by industry-leading service level agreements, ensuring we continue to work incredibly hard to maintain our excellent service and reputation.
To find out more about our managed hosting services, including cloud, dedicated, colocation, and VPS, please call 0800 1 777 000 or send us an email.

CWCS are here to look after your online infrastructure, so you can look after your business!
Return to blog page